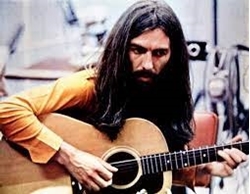 Some things never change. Decades after they broke up, The Beatles remain one of the most important bands of any generation, and George Harrison never shook the quiet Beatle misnomer. Harrison's exquisite guitar playing and songwriting skills got lost alongside the strong-willed Paul McCartney and John Lennon in The Beatles. Still, he had the biggest solo debut of any of the Beatles. That doesn't even include Wonderwall Music, Harrison's forgotten first solo record he made while the band was still together.
It didn't take Harrison long to prove his songwriting chops after The Beatles acrimoniously split in a slow dissolution that lasted from late 1969 to early 1970.
Harrison dropped his solo debut, All Things Must Pass, in late 1970. It went gold within three weeks of its U.S. release, hit No. 1 on the charts at the start of 1971, stayed at the top for seven weeks, and went platinum six times.
Source: cheatsheet.com