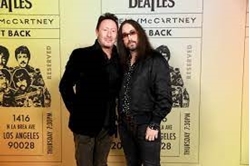 Do Julian Lennon and his brother Sean Ono Lennon have something special up their sleeves?
Just like their late father John Lennon, both Julian and Sean have established themselves as successful musicians — and now, Julian is teasing the possibility that the two might team up to make music together at some point in the future.
"We've talked about it. We have a plan at some point, when we both have the time to do it," Julian told Bill Maher on an episode of his Club Random podcast that will air on Monday. "Yes, there's something we want to do together. We want to play around with an idea. I think it's a nice idea. I have to wait and see. I'm not winding you up, but it'll have its time and place."
Julian, 60, didn't offer any additional clues as what he and Sean, 47, might be conjuring up, but acknowledged that there was something special about the idea of them working together, as it's "the whole sibling thing and how our voices should sound together and do sound together."
Julian was born to Lennon and his first wife Cynthia, while Sean's mom is the "Imagine" singer's second wife, Yoko Ono.
"Sean's a good kid. I love him immensely," Julian told Maher. "He's incredibly talented, incredibly gifted. He works his ass off as a musician."
Source: Rachel DeSantis/people.com