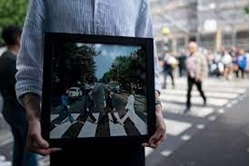 Dulais Rhys, a professional musician and faculty member with the Amabile School of Music in San Francisco, will lead a discussion about the Beatles' final album, "Abby Road," at 7 p.m., Tuesday, Oct. 10 at the Livermore Civic Center Library, 1188 S. Livermore Ave.
The presentation is free and open to the public.
"Abby Road" was the iconic rock band's 11th studio album. Released in 1969, it reached No. 1 on the pop charts in both England and the U.S.
Although the album was a commercial success, it initially received mixed reviews from the critics. Today, however, it is considered one of the Fab Four's best albums. In particular, two songs written by George Harrison, "Something" and "Here Comes the Sun," are considered among the best he ever wrote for the group.
The album cover, showing the group walking in step across the street outside Abby Road Studios in London, is one of the most recognizable and most often imitated covers in history.
Source: independentnews.com