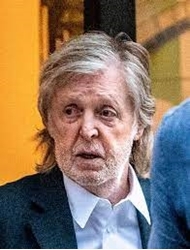 Paul McCartney is embracing a more natural look after being pictured in London this week with white hair and a white beard
Looking closer to his 81 years of age, The Beatles rocker definitely has good hair genes as there is no sign of a receding hairline despite him being an octogenarian. But instead of dying his locks brown - as he was rumoured to have done for 30 years - they are now more of a grey/white.
Although Paul was dressed smartly in a dark suit with a white shirt underneath, he looked like he might be in a hurry to get somewhere as he hadn't shaved. Or could his white stubble be an attempt to regrow the famous beard he rocked in his glory days?
The Hey Jude singer sported a thick beard between 1969 and 1971. Such is the love for it, there are even dedicated blog posts telling his legions of fans how to create the look themselves.
Source:Katie Wilson/mirror.co.uk