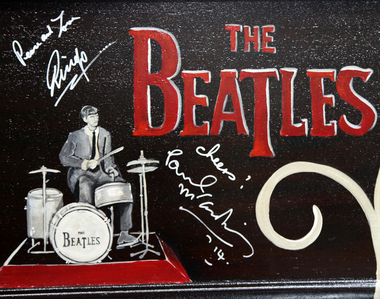 A piano with a Beatles theme -- signed by Sir Paul McCartney and Ringo Starr -- will allow East St. Tammany Habitat for Humanity to construct a home for a veteran and his or her family.
The two world-famous musicians signed the piano, restored and painted by Slidell artist Lori Gomez, in the fall. But it took months of effort to obtain certificates of authenticity and a certified estimated value before the piano could go up for auction on the Web site, Charitybuzz.com.
The auction started April 2, but it all came down to the final minutes before it closed April 16 at 2 p.m. About 50 ESTHFH supporters gathered at Carreta's Grill in Slidell to watch the final countdown on their smart phones and IPads.
While bids on the piano had only reached $41,000 by that morning, cheers from the crowd could be heard as the price jumped to $55,500 at 1:50 p.m. then $71,000 and $81,000 within seconds at 1:55 p.m., and $91,000 at 1:56 p.m. Per Charity Buzz's rules, bidding was extended twice -- for a total of 20 extra minutes -- when last minute bids were made.
In the end, the piano brought in $98,888 for the non-profit's Veterans Build program.
By:Sarah Bonnette
Source: The Times-Picayune