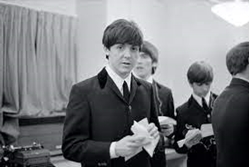 Paul McCartney has been a working musician for so long that it's hard to remember that he and The Beatles were once new to the game. The Beatles got a lucky break playing on The Ed Sullivan Show and soon became internationally famous. They started playing in front of massive crowds in arenas and stadiums, but Paul still got nervous about performing one song on the Sullivan show in 1965.
The beauty of the internet is that any musician can release a song or album and start building an audience. The Fab Four had to cultivate a following the old-fashioned way — by playing live.
The Beatles spent years playing concerts to build their audience. Paul, Ringo Starr, George Harrison, and John Lennon honed their chops with residencies in Hamburg, Germany, in the early 1960s. When they weren't entertaining the Germans, the Fab Four played shows across the U.K.
Source: Jason Rossi/cheatsheet.com