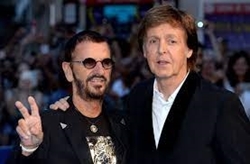 Paul McCartney's prowess as a songwriter is undisputed. He disliked some of his Beatles songs, but his hits overshadow his misfires. One part of Macca's personal life was a major snafu, though — his marriage to Heather Mills. Their union ended in a bitter divorce. Ringo Starr, usually very pleasant in public, uncharacteristically called out Paul's wife with three simple and vicious words.
Paul's wedding to Linda in 1969 showed how far apart The Beatles had grown. Yet they enjoyed a decades-long marriage that saw them work as musical partners in Wings as they raised three children.
Macca moved on with Heather Mills after Linda died. Paul met Mills in 1999, a year after Linda's death, and they became an official couple just a few months later. They married in 2002, but the partnership didn't last.
Source: Jason Rossi/cheatsheet.com