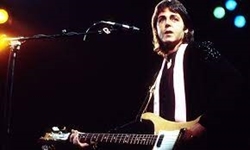 Paul McCartney's most influential music came with The Beatles, but he never stopped writing songs. His ex-wife Heather Mills foolishly trolled Paul for working with Rihanna and Kanye West and totally missed the mark. His work beyond The Beatles has been nearly as successful. Let's look at the five most successful Paul solo songs.
Note: We ranked Paul's solo songs based on weeks atop the Billboard singles chart, not total weeks on the chart. Wings' songs appear as Macca was the primary songwriter on those hits.
1. 'Ebony and Ivory'
Macca's 1982 collaboration with Stevie Wonder got banned in South Africa but became a rousing success in the United States. The tune spent seven weeks at No. 1 during its 19-week stay on the singles chart.
Paul's solo tune about racial harmony nabbed three Grammy nominations for song of the year, record of the year, and best pop performance by a duo or group. "Ebony and Ivory" also achieved gold status from the Recording Industry Association of America.
Source: Jason Rossi/cheatsheet.com