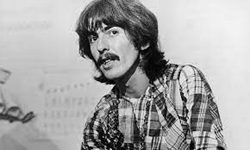 Though George Harrison was often left out of the songwriting dyad of Paul McCartney and John Lennon, he would write plenty of Beatles songs on his own. Throughout his time with The Beatles, Harrison wrote hundreds of songs, yet only a handful made the cut on several of the band's albums.
Harrison penned Help! tracks "I Need You" and "You Like Me Too Much" and was relegated to singing some covers in between before his Rubber Soul contributions "Think For Yourself" and "If I Needed Someone."
Later on, Harrison's sweeping "While My Guitar Gently Weeps," which featured his friend Eric Clapton, and the song "Piggies" made The White Album. Harrison wrote more with his most famous Abbey Road offerings "Something" and "Here Comes the Sun," before "I'll Be Me" and "For You Blue" on the third and final opus, Let It Be, in 1970.
Source: Tina Benitez-Eves/americansongwriter.com