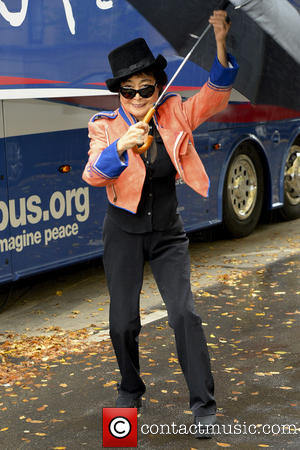 If you watched the Beatles' 50th anniversary special last week, you couldn't miss Yoko Ono. John Lennon's widow sat in the front row at the live tribute alongside her son, Sean, and she seemed to be enjoying the heck out of it. She wore a black top with a plunging neckline and a brimmed hat that she kept on throughout the show. She rose from her seat frequently to dance, showing off moves that a much younger woman might envy.
Yoko turned 81 on Tuesday. Last year, at 80, she put out a new CD with her Plastic Ono Band and vamped it up in a music video for the song "Bad Dancer," dressed in seamed black stockings and a leotard tux — very Marlene Dietrich. Also in 2013, she mounted a major retrospective of her art in Australia and installed the Imagine Peace tower in Iceland. All I can say is, wow. I never paid Yoko much mind, one way or the other, back in the day. But suddenly, I find myself watching her raptly for clues about how to stay hip while approaching one's "old lady" years. In an interview a year or so ago, Yoko said she wanted women to know that aging was great. Far from dreading 50, she urged look forward to good times in your 70s and 80s.
Read more on this story.........
Source: Pocono Record