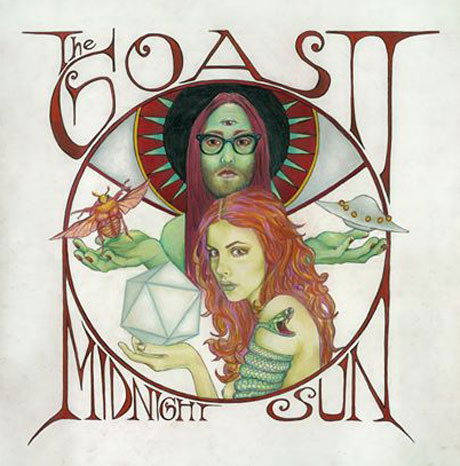 When your father was a member of the Beatles and your mother an acclaimed avant-garde/noise artist, you're allowed to take some creative liberties. Just ask Sean Lennon (son of John Lennon and Yoko Ono), who has spent nearly 25 years performing solo and with acts like Cibo Matto, Albert Hammond Jr. and his mother's group, the Plastic Ono Band.
But in recent years, Lennon has been living an almost modern-day rock'n'roll version of Serge Gainsbourg's Histoire de Melody Nelson, having formed a romantic and creative partnership with British model/recording artist Charlotte Kemp Muhl, who he has recorded and toured with under the name the Ghost of a Saber Tooth Tiger, or as they commonly go by now the GOASTT. Their newest LP, Midnight Sun, arrives April 29 through Lennon and Muhl's own Chimera Music. Until then, stream the album in full on Exclaim.ca. Recorded in the four-year gap following the release of their roughshod Acoustic Sessions LP and the avant-electro pop La Carotte Bleue, Midnight Sun finds the atmospheric duo diving into an even deeper sonic territory, which a press release suggests takes listeners on "a guided tour of bold, shape-shifting sonic murals and evocative lyrical panoramas."
Read more on this story.......
Source: Exclaim, Canada