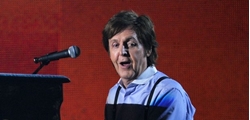 Sir Paul McCartney will forever be one of the world's most successful and best loved musicians.
He has been a prolific songwriter and performer ever since his teenage days in the Quarrymen in the late 1950s, and shows no signs of slowing down.
We've picked our very favourite Paul McCartney songs (not including his work with The Beatles otherwise we'll be here all day, or Christmas tunes) to make for a perfect Macca setlist...
1. 'Maybe I'm Amazed'
McCartney dedicated this song to his wife Linda, who had helped him get through the break-up of the Beatles. Despite it being one of his best known solo songs, he never actually released it as a single.
Source: smoothradio.com