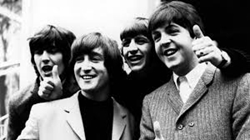 1. The Beatles got the idea for their name from Buddy Holly and The Crickets
The band liked the idea of using the name of an insect as a band name, and they were fans of Buddy Holly and the Crickets. Because John Lennon loved puns, he altered the spelling of "Beetles" to "Beatles".
2. John Lennon's father was absent for much of his early life but showed up when his son became famous
John Lennon's father, Alfred Lennon, was a merchant mariner who had a stormy relationship with Lennon's mother and was gone for most of his son's youth. John Lennon was mostly raised by his aunt. When the Beatles exploded on the pop scene, Alfred Lennon tried to reconnect with his son and also made a novelty recording that was somewhat successful to capitalize on the fame of the Fab Four.
Source: Bo Weber