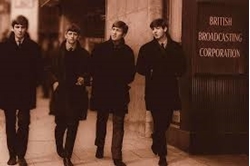 In February of 1962, Beatles manager Brian Epstein arranged an audition for the band in front of BBC Radio executives. After struggling to find the then-unknown mop tops a record deal, Epstein hoped that some radio exposure would lead the group to a contract.
BBC producer Peter Pilbeam was impressed with the group's four-song audition and booked them to appear on the program Teenagers Turn (Here We Go), to be taped on March 7. The line-up for that initial broadcast featured John Lennon, Paul McCartney, George Harrison and Pete Best (Ringo Starr wouldn't join the group until August that year).
"They were very nervous, obviously," Pilbeam later recalled on a radio interview. "I was very impressed with them. I booked them straight away for another date after that first show."
Thus began a relationship that would span roughly three years, with the Beatles delivering 52 performances for the BBC between 1962 and 1965. Decades later, recordings from these shows would make up the compilation album Live at the BBC.
Source: ultimateclassicrock.com