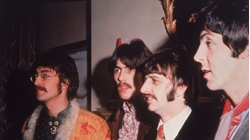 It was 48 years ago in April that Paul McCartney announced the breakup of the Beatles, and even though nearly half a century has passed since then, interest in the greatest band of all time remains high.
The 2000 "1" album, a compilation of all of the Beatles number one singles, itself went to No. 1 — 30 years after the band broke up. Millions of fans, and not just baby boomers, listen to Beatles songs on the online streaming service Spotify every month.
There are dozens of books written about the legendary rock band, examining their rise, their influence on the zeitgeist of the '60s, and why they have retained their appeal all these years later. No music act has been the subject of more television documentaries than the Beatles.
Source: John Harrington and Charles Stockdale/247wallst.com