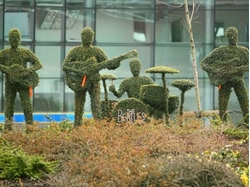 "Sgt. Pepper" was the first rock album with printed lyrics, the first to win a best album Grammy. It may be the most influential record in pop history, and the best-loved. It changed the direction of The Beatles, and of rock 'n' roll. Wochit
Forty-eight years ago, Paul McCartney announced the breakup of The Beatles, and even though nearly half a century has passed since then, interest in the greatest band of all time remains high.
The 2000 "1" album, a compilation of all of The Beatles' No. 1 singles, itself went to No. 1 – 30 years after the band broke up. Millions of fans, and not just baby boomers, stream Beatles songs on Spotify every month. Dozens of books examine their rise, their influence and their appeal all these years later.
You might think there's nothing left to know about the four working-class lads from Liverpool who became the most famous people in the world. Yet even the most hard-core Beatles fans are still amazed at what they don't know.
Source: John Harrington and Charles Stockdale/usatoday.com