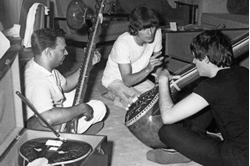 Much before The Beatles, there was Ravi Shankar, and long before him, there was Indian classical music. But for the six billion people of this planet who happen not to be Indian, the three seemed to magically appear together in a moment of celestial, psychedelic epiphany in the 1960s. This reading is rubbish, of course, but perceptions have a way of edging out facts.
There are many more players in the sequence of events that was to culminate with Indian classical music bursting on to the world stage with Western pop: the "quiet Beatle" George Harrison, American folk rocker David Crosby (of The Byrds and, later, Crosby, Stills, Nash and Young), the musicians of the Asian Music Circuit in the UK and what Harrison would no doubt call destiny.
Harrison's interest in Indian music began accidentally, in April 1965, on the sets of The Beatles' film Help! , which had a sequence filmed in an Indian restaurant in London with Indian musicians playing Indian instruments, including a sitar. "George was looking at them," according to John Lennon in the documentary The Beatles Anthology. The film's music composer, Ken Thorne, used an Indian ensemble of sitar, flute, tabla, ghunghroo, tanpura and possibly a dilruba and surbahar to play a Beatles medley called Another Hard Day's Night. The piece was not particularly well played, but it was appropriate to the occasion. And it got Harrison interested in the sitar.
Source: Live Mint