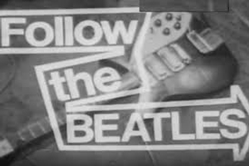 On August 3, 1964, a month after A Hard Day's Night helped the world fall even more in love with the Beatles, the BBC offered their rabid fans a behind-the-scenes look at the making of the Fab Four's debut movie with Follow the Beatles.
The Robert Robinson-narrated documentary, which you can see here, showed off even more of the Beatles' charming and witty personalities, and revealed some very interesting secrets and perspectives on the making of their debut film. Here's six things we learned while re-watching Follow the Beatles all these years later.
The Beatles were bullied and manhandled on their own film set
John Lennon, Ringo Starr, George Harrison and Paul McCartney were constantly grabbed at and pushed around by fans, onlookers, and even the police who were involved in the film. A Hard Day's Night writer Allen Owen discusses his astonishment with how the calm, relaxed Beatles "just went with it", despite repeatedly being subject to actual physical pain.
Source: ultimateclassicrock.com