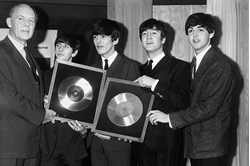 By early 1963, the value of the songs written by John Lennon and Paul McCartney was obvious to Beatles manager Brian Epstein.
Artists were lining up to record their new compositions. Following the release of their debut single "Love Me Do," producer George Martin recommended Dick James Music to Epstein as a publisher that could do a good job maximizing the value of the Beatles' music. James' idea: a new company owned by James, McCartney, Lennon and Epstein. On Feb. 22, 1963, Lennon and McCartney signed contracts that created what they thought was their own music publishing company: Northern Songs.
"We just signed this thing, not really knowing what it was at all about [and] that we were signing our rights away for our songs," McCartney recalled in Many Years From Now. "John and I didn't know you could own songs. We thought they just existed in the air.
Source: ultimateclassicrock.com