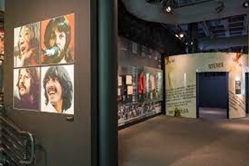 Imagine discovering the Beatles for the first time.
You walk into a dark room and see the four of them, blown up on a giant screen. They're playing a blistering live set. It is a gig, in rock circles, that has been acknowledged as one of the most famous musical performances on film. But you never knew it existed. In that space, in that moment, you luxuriate in an experience that's completely new.
Which is exactly why Anabel Martinez, 37, was smiling as she sat in a dark, circular-shaped gallery at the Rock and Roll Hall of Fame on a recent Sunday morning.

She came to Cleveland for a business trip and paid $35 for a general admission ticket to the museum not knowing about the special Beatles exhibit, "Get Back to Let It Be." Launched in March, it's a show meant to complement the acclaimed, 468-minute documentary series directed by Peter Jackson and aired by Disney Plus last November.
Source: Geoff Edgers/washingtonpost.com