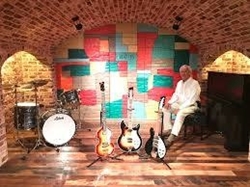 Dave Meister certainly could claim to be speaking words of wisdom as his plans for a British-themed pub and eatery called Let It Be unfold in the months ahead.
After all, the music lover with an artistic touch is no stranger to the influence of the Beatles, having already once recreated a replica of the Liverpool, England, underground music venue where the group drew crowds in its early years.
That version of the Cavern Club, which was brought to life in Meister's Hartland office building and private jazz studio in 2018, attracted some high-profile interest from its onset.
This time, it's different. Meister wants to generate a true live-music venue in downtown Waukesha that would do the British Invasion proud, to the delight of fans of all ages locally. It won't be bigger than the Beatles, but as Let It Be takes shape, piece by piece, before it opens in the summer of 2021, he admits to having high enough hopes to become, at minimum, a downtown centerpiece.
Source: jsonline.com