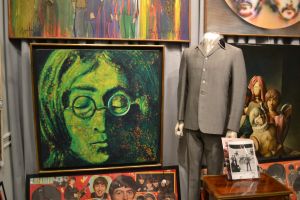 The collector is Raul Blisniuk, the auction house, Saráchaga, the opportunity, the mega auction of over 600 items of memorabilia linked to Bealtes, The Rolling Stones and Michael Jackson, among other great bands with base prices ranging from $ 100 to $ 120 000. Expectations are high among those involved. Prices are affordable because the idea is to sell, not to expose.

"It's the first time we do an auction of memorabilia. Operating in the house there is no difference, if the type of objects that we, not our usual," admitted John Mary Poiron, one of the directors and auctioneers of Saráchaga in dialogue with ámbito.com

There are many aspects that make the event interesting. First, not often seen in Argentina such lots, less priced in local currency. In turn, base prices go to auction those are very accessible, coupled with the popularity of the artists and the need for savers and investors to find value stocks in the formal market.

Read more on this story......
Source: Bubblews