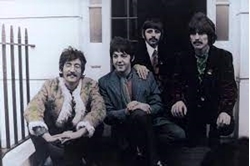 After The Beatles split, George Harrison said people came in "grabbing and plundering as much as they could." Everyone wanted a piece of one of the most successful bands of the 1960s. However, George said they wouldn't get away with it.
However, when The Beatles broke up, they left room for everyone to come in and steal everything they'd done.
In a 1987 interview with Creem Magazine, George spoke about what happened to The Beatles' catalog shortly before they split.
The Beatles' music publisher, Dick James, who earned a high percentage of the band's publishing company, Northern Songs, sold the company to ATV Music without letting John or Paul buy him out. Then in 1985, Michael Jackson bought ATV Music. George was thankful he didn't write as many Beatles songs as John and Paul.
Source: cheatsheet.com