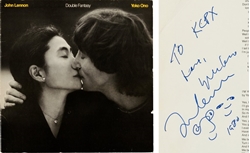 A promo copy of "Double Fantasy" signed for KCPX on Dec. 8, 1980, is on the block, with a starting price of $50,000.In the hours before John Lennon was murdered on Dec. 8, 1980, he and wife Yoko Ono posed for a Rolling Stone photo shoot with famed photographer Annie Leibovitz, sat for a radio interview with RKO's Dave Sholin, went off to a recording session at the Hit Factory studio, and autographed a couple of copies of their joint album "Double Fantasy," which featured Lennon's first new music in five years.
One of those autographs was famously for Mark David Chapman, the man who, a few hours later, would shoot and kill Lennon outside the Dakota apartment building at 72nd Street and Central Park West in New York City.
Another was inscribed to Salt Lake City radio station KCPX.
Source: By Eric Walden /sltrib.com