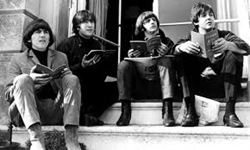 And, that John Lennon wrote "Lucy in the Sky with Diamonds" (often thought of as being about the drug LSD, due to the song's initials) was actually written about the death of a little girl named Lucy who was his son Julian's friend.
Or, did you know that it was Ed Sullivan himself who noticed the throngs of teenagers waiting for the band at London's airport when they were returning from playing in Hamburg, Germany in 1963? He then booked the band for their (now) historic appearance in February 1964.
The interesting facts in this book just keep coming.
When Paul introduced "the one and only Billy Shears" in his song "Sgt. Pepper's Lonely Hearts Club Band" he was actually referring to drummer Ringo Starr, whom Paul and John wanted to help promote.
These stories are but a few of those in perhaps the most exhaustive book ever written about history's greatest band. The book is called All the Songs: The Story Behind Every Beatles Release.
It's a fascinating look at the genesis of every Beatles song, ranging from the number of takes it took to record each song to the inspiration behind each lyric. Beyond that, it's full of behind-the-scenes drama that made the Beatles far more than just history's greatest selling band.
Source: David R. Altman/mainstreetnews.com