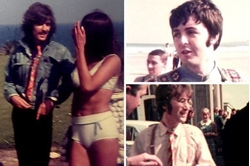 Never-before seen pictures of The Beatles have come to light after being kept in a drawer for more than 50 years.
They were taken in Cornwall during the filming of the 1967 TV movie Magical Mystery Tour, which was first broadcast on Boxing Day that year, Cornwall Live reports.
The candid pictures were taken by a travelling salesman who was staying in the same Newquay hotel as Paul McCartney, John Lennon, George Harrison and Ringo Starr, and who followed them to the beach.
The rep kept the 15 colour slide transparencies, as well as a letter signed by three of the band, in a drawer for decades.
But in October last year he decided to sell the rare items, which fetched £2,700 at auction on New Year's Day, more than the estimated figure of £1,000 to £2,000.
Source: Mike Smallcombe/liverpoolecho.co.uk