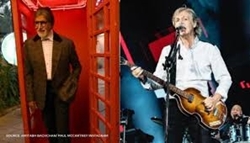 Several famous musicians, scientists, actors, and filmmakers are known to be ambidextrous. Ambidexterity is the ability to use both the left and right hands well.
Read on to know about celebrities who have this ability, like Amitabh Bachchan, Paul McCartney, and Adam Levine.
Amitabh Bachchan is one of the most influential actors in Indian cinema. Apart from his stellar performances in movies, he is also quite active on social media. One trivia about the actor is that he is ambidextrous. The actor can write equally well using both his hands.
Source: republicworld.com