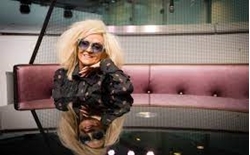 When she first joined Radio 1 in 1970, Annie Nightingale made history as the first national female DJ at the BBC. Today, after 51 years with the station, she holds the Guinness World Record for the longest career of a female radio presenter.
Now 81, Nightingale continues to present her Radio 1 show and was given a CBE in the 2020 New Year's Honours. Her memoir Hey Hi Hello is published in paperback this week, revealing the best and worst of her five decades behind the microphone. Here she shares a few more…
Shipbuilding by Robert Wyatt, written by Elvis Costello. It's about the moral dilemma of shipbuilders in the North East in the 1980s. If we went to war in the Falklands, it would give work to the shipyards which were in decline – but would you want that job, knowing that what you made would be used to kill people? To me, that's one of the most important songs I've ever known and it matters to me a lot.
Source: Jack Rear/telegraph.co.uk