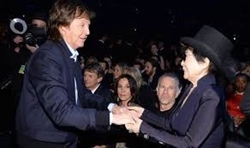 If you ask a Beatles fan or even a casual music listener why the Beatles broke up, they'll probably have one simple answer: Yoko Ono. John Lennon's second wife Yoko was an artist in her own right and was famous for sitting in on the Beatles' recording sessions. Because of the tension this created between the group, numerous commentators have blamed Yoko for the band's dissolution. Paul McCartney has repeatedly said that the Beatles did not break up because of Yoko, but does this mean that the two singers are friends?
When Yoko first insisted on entering the studio during the Beatles' sessions, Paul was annoyed. He told CNN "We weren't sexist, but girls didn't come to the studio — they tended to leave us to it. When John got with Yoko, she wasn't in the control room or to the side. It was in the middle of the four of us."
Paul would later admit that these experiences caused him to harbor some ill-will towards Yoko. He said that he found her presence in the studio "intrusive," though he understood that her behavior stemmed from her intense romance with John.
Source: The Cheatsheet