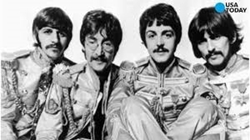 When Glenn Gass developed his first rock and roll history class at Indiana University in 1982 it wasn't exactly a hit among his peers.
Pop music didn't seem to have a history worth preserving, Gass recalled. Pop music was for one generation, he said, and then the next generation had its own version and so on.
As a composition major, Gass knew enough about music and firmly felt The Beatles were a "great gift to the musical world."
But those were fighting words in the early 80s at the IU School of Music.
It was the first rock album with printed lyrics, the first with a fold-out cover, the first to win a "Best Album" Grammy. It may be the most influential record in pop history, and the best-loved. It changed the direction of The Beatles, and rock-and-roll, forever. It's "Sgt. Pepper's Lonely Hearts Club Band," released 50 years ago June 2nd.
"I had the head of the musicology department ask how I could teach even one minute of musical garbage," Gass said. "To him rock and roll was just noise. And he wasn't even trying to be insulting, he was just baffled by how anyone could even listen to that junk."
Source: Megan Erbacher, Courier & Press