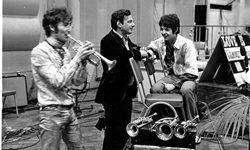 Turner prize-winning artist Jeremy Deller is to stage a haunting tribute to the Beatles' manager, Brian Epstein, in the run-up to events in Liverpool marking 50 years since the release of the band's groundbreaking album, Sgt Pepper's Lonely Hearts Club Band.
The artist, who created the centenary commemoration of the lost soldiers of the Battle of the Somme last year and a controversial re-enactment of the Battle of Orgreave, has designed a series of posters that will go up around the city later this month. They will bear powerful slogans about Epstein's devotion to the Beatles, some associating his sacrifices with those of a religious martyr.
"Rock music is a belief system, in a way, and Brian Epstein dedicated everything to the Beatles and to their success. His main concern was their well-being," said Deller. "In terms of its characters and stories, the way we feel about rock'n'roll music since the Beatles is like religion, or at least an alternative belief system."
When the city's mayor, Joe Anderson, announced a carnival of arts that will begin on 25 May, the Merseyside statue of the band members – John Lennon, George Harrison, Paul McCartney and Ringo Starr – provided a handy visual reminder of the Beatles' musical legacy. Yet, for Deller, the spectral presence of Epstein, who died in 1967 at the age of 32 after Sgt Pepper had been released, is always present alongside the Fab Four.
By: Vanessa Thorpe
Source: The Guardian