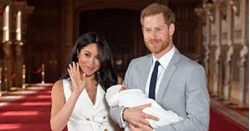 Ok, what do you think?
The Royal Family usually only choose traditional names for their children, but Prince Harry was always going to do things a bit differently.
His firstborn son has been named Archie Harrison Mountbatten-Windsor , and there's said to be a very cool meaning behind his middle name. Meghan Markle's etiquette teacher believes Harrison is tribute to the Duchess of Sussex's favourite Beatle.
Edmund Fry, who taught Meg how to be a royal, said she is a big fan of The Beatles and in particular George Harrison. He told The Sun: "She has a great fond feeling for George Harrison and that's where that name came from. She's a great fan of The Beatles."
And it seems Meghan and Harry both had a hand in choosing their newborn's name. Archie's first name is said to be in tribute to the man credited with saving Harry's military career.
Major Tom Archer-Burton, who is known as Archie, was Prince Harry's commanding officer when he was in the army and helped him be deployed in Afghanistan.
Source: The Mirror