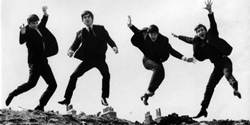 Okay so to be frank the question to ask after the year-long spate of rock star deaths is: Jesus, who's next?
In a New Yorker cartoon at the end of 2016, God says to the Grim Reaper, "Maybe go easy on the much-loved celebrities for a while." This time last year was the pretty shocking death of David Bowie, and at Christmas there was the really sad death of George Michael. In between, there was...just about everyone.
Bring out your listicles of the famous dead. 2016 saw what appeared to be record numbers of music royalty passing over to that great backstage in the sky. Prince. Leonard Cohen. Glenn Frey from The Eagles, Paul Kantner from Jefferson Airplane.
In New Zealand, Ray Columbus, Bunny Walters, and Toni Williams. Pete Burns from Dead or Alive, Alan Vega from Suicide. Elvis's guitar player Scotty Moore.
Bernie Worrell from Parliament, Maurice White from Earth Wind & Fire. And more besides, plus 64 members of the Red Army Choir in a plane crash on Christmas Day.
Piece by piece, the original scaffolding of rock'n'roll is being taken away. The greatest art form of the 20th century was invented by the very young, but that was 50, 60 years ago, and the only ones left are now very old. The Stones. Dylan. Little Richard is 84! And right at top of rock's summit are two guys aged 74 and 76. Two guys who did more than anyone - alongside two other guys, now dead - to get the whole thing started; who made the songs that the world will likely never stop singing.
By: Steve Braunias
Source: New Zealand Herald