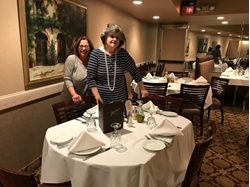 He liked it, yeah, yeah, yeah.
Paul McCartney and wife Nancy Shevell had dinner Sunday at the landmark Jimmy's Italian Restaurant in Asbury Park.
"He said tell the chef that everything was excellent," said waitress Bernadette Kozlowski.
He ate a vegetarian meal at Jimmy's.
McCartney and Shevell were part of a party of six that included members of Shevell's family. Shevell is a graduate of J.P. Stevens High School in Edison.
Source:app.com