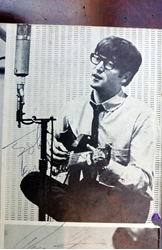 The late singer-songwriter visited Carlisle on two occasions during 1963, the year before Beatlemania went into full swing across Britain with his famous bandmates Paul McCartney, George Harrison and Ringo Starr.
The band played the Carlisle ABC cinema stage, which was a venue more suited perhaps to showing films such as that year's 'Lawrence of Arabia' starring Peter O'Toole.
The Fab Four, in fact, were second on the bill behind Helen Shapiro for their first performance on Cumbrian soil in February 1963 with their first single 'Love Me Do' having reached only number 17 on the charts the previous year. In the next year, the Beatles would achieve the first of 17 number one singles in the UK, making sales and cultural history in the process. Lennon's group were so low-profile they were reportedly asked to leave a dance at Carlisle hotel on account of being inappropriately dressed later during their visit!
Source: Tom Beattie/newsandstar.co.uk