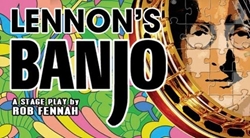 Ex-Beatles drummer Pete Best is set to make his acting debut in Liverpool in a new comedy called Lennon's Banjo.
The show - about a quest to find the instrument that John Lennon first played music on - will be performed at the Epstein Theatre next spring.
Best will play himself in the brand new comedy stage production which runs between Tuesday, April 24 and Saturday, May 5 2018.
Written by Rob Fennah, the story focuses on Lennon's missing banjo which is considered to be the holy grail of pop memorabilia.
The instrument has been missing for six decades and it is now worth millions to the person that discovers it.
Source: Liverpool Echo