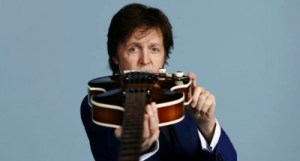 Hyundai Card suffered a system crash on Tuesday as fans scrambled to book tickets for the Seoul concert of former Beatle Paul McCartney. The credit card company started to sell advance tickets on the day for the legendary British singer's first concert in Korea, which is scheduled for May 28.
Hyundai Card is the organizer of the concert. It offered its members the chance to book early tickets from lunchtime but within minutes the card payments were not going through. As the company offered a 10 percent discount to those who downloaded a Hyundai Card app on their smartphones to pay for their tickets, demand was high and apparently overloaded the system. Due to the system error, consumers also experienced problems using their Hyundai Card at other shopping mall sites. "The venue has 45,000 seats, but as over 80,000 people tried to buy tickets today the server seemed to get overloaded. We will increase the number of servers on Wednesday to ensure this doesn't happen again," said a Hyundai Card staffer.
Read more on this story.......
Source: Chosun, South Korean