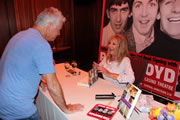 AVALON, CATALINA ISLAND - Beatlemania swept the nation in 1964 after the Beatles appeared on the Ed Sullivan Show. Those crazed and hysterical fans - now in their sixties - continue to be as passionate about the Beatles today as they were in their teenage years. Two friends from Virginia recently proved how far they would go to view A Hard Day's Night and meet Pattie Boyd, former wife of George Harrison, when they traveled to Avalon for the Catalina Island Museum's 50th anniversary screening of the film. For the record, the distance from Yorktown, VA to Catalina Island is approximately 2,357 miles. Linda Rody and her friend Billie spoke with Michael De Marsche, Executive Director of the Catalina Island Museum, during the book signing with Pattie Boyd that occurred after the screening of the film. The following is their story. "This past February my high school friend, Billie, reminded me of the fifty-year celebration of the Beatles arrival to the U.S.A. As I searched the Internet for news of the Beatles, I included Pattie Boyd in my search. I thought she might be interviewed somewhere in the media. To my delight, an article appeared announcing her appearance at the Catalina Island Museum on July 6th.
The trip was my surprise to my friend who has advanced osteoporosis. We spent two wonderful days on Catalina Island, shopping, dining, touring the island and, most important, seeing the movie and Pattie Boyd. This was the second time for me to see the movie. Of course, the first time I was fourteen years old and had no appreciation for the "dialogue." Now, I am of an age where I could enjoy the show for what it is - entertainment. It was especially important to me to meet Pattie Boyd because Pattie was such an icon of the 1960s and 1970s. I still enjoy seeing what latest fashion she is wearing and how she styles her hair and makeup. I could never decide if I liked the way she looked the most with George Harrison or Eric Clapton. Regardless of whomever she was with, she made them look like a stunning couple. Pattie continues to be a beautiful, gracious and inspiring lady."
Read more on this story........
Source: eCatalina