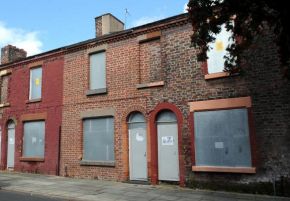 Fans have won a battle to save the home of former Beatles drummer Ringo Starr from demolition and it will be turned into a tourist attraction.

Beatles fans in Liverpool and around the world had battled for three years to preserve the humble terraced house in Madryn Street, Liverpool

It had been scheduled for destruction in a controversial housing renewal scheme promoted by John Prescott who described Ringo's birthplace as "of no significance".

But conservationists joined the battle to save the three-bedroomed Victorian property where Richard Starkie was born on 7th July 1940.

And last year Housing Minister Grant Shapps stepped in at the 11th hour to halt council bulldozers, urging the town hall officials and housing associations to look for alternatives.

Now £2m Government grant has been awarded for renovating the street and the National Trust is being lined-up to add 9 Madryn Street to its list of Beatles birthplace attractions in Liverpool.

Opposition Lib/Dem group leader on Liverpool City Council Richard Kemp revealed that 117 properties - about a quarter of those in the eleven "Welsh Streets" will be renovated.

Mr Kemp who is chairman of Plus Dane, the social landlord that owns most of the Welsh Street homes said he was "very pleased" over the new scheme.

Mr Kemp said: "We will be bringing some of the Welsh Streets properties back into use and one of those is number 9 Madryn Street.

"These will be homes people want to live in and although it wasn't the original plan, times have changed.

"This is the right thing to do with the circumstances of the housing market at the moment."

"We are hoping that the National Trust will take-on the property and run it as a tourist attraction"

John Lennon's childhood home "Mendips"in Menlove Avenue, Woolton and Sir Paul McCartney family home at 20 Forthlin Road, Allerton.

Philip Coppell, Chairman of the Save Madryn Street campaign said: "This is a victory for common sense and for the ordinary people against the might of the town hall.

"Beatles fans in Liverpool and all over the world will want to thank the Government and Grant Shapps in particular for helping to save Madryn Street for posterity.

"No-one could ever understand why John Prescott and the councillors - both Labour and Lib/Dem - ever wanted to demolish a house that is part of world music history.

"It would have been the equivalent of the mayor of Memphis deciding to demolish Gracelands.

"Thousands of fans tour Liverpool every year and now we will have three Beatles birthplaces for them to visit.

"George Harrison's home is a private residence, but we hope that if it ever comes on the market, it too will welcome a visitors."

Jonathan Brown, of the Merseyside Civic Society, said: "This is tribute to the tenacity of the residents and all those who have been campaigning for so long to save these historic properties.

"We are not home and dry on this yet, but it is a very postiive step forward."

Will Palin, from Save Britain's Heritage, said: "We'd be delighted if Madryn Street was saved but we feel very strongly about saving the Welsh Streets area as a whole.

"There's a lot of rumours going around at the moment and it is difficult to know what is going to happen.

"The latest rumour is that 117 houses are going to be saved but that surfaced shortly before another rumour which said that Madryn Street, except for Ringo's house, would be demolished.

"It's really difficult to back the details as they are.

"If Madryn Street is saved then I will applaud all those involved but if part of the Welsh Streets are demolished then it will be a hollow victory."

But Ringo Starr's former home is not thought of as a place worthy of inclusion in the National Trust portfolio of historical properties.

A spokesperson said: "The Trust can only take on properties where funds are in place to pay for the up-front purchase price and where it is confident that the property can generate sufficient funds to cover all the costs of looking after it in the future.

"None of these criteria apply in the case of No 9 Madryn Street.

"Unlike John Lennon and Sir Paul McCartney, Ringo resided at Madryn Street for a very brief period, early on in his life.

"Consequently the significance of the house in terms of musical influence or development was insignificant compared to Mendips and 20 Forthlin Road.

"History tells us that the Beatles lived in more than a dozen houses during their collective childhoods and it would not be realistic for the Trust to try and acquire all of these buildings."

A Liverpool City Council spokesman said: "We have not made any decision over the future of Ringo Starr's former home on Madryn Street.

"It is well known that we have been considering for some time the best way forward for the Welsh Streets taking into account the housing needs of the area and the demand for specific types of properties.

"However there is nothing further to add or announce at this stage."

Cllr Kemp was unavailable for comment.

You can read the original article
HERE