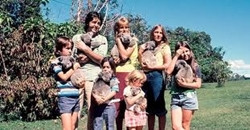 Paul McCartney is mostly known as a music icon, but when he is off the stage, the 78-year-old is a doting father to five amazing children.
Legendary singer Paul McCartney was a member of the popular music band, "The Beatles," and over the years, he has lived a great life with several awards and recognition.
In addition to his successful career, Paul is also a proud father to his five beautiful children. Here's a look into their lives.
Heather Eastman McCartney is the eldest of the McCartney siblings. Although she was welcomed by Paul's late wife, Linda McCartney, in a previous relationship, Heather has been adopted by Paul.
Heather is currently 50-years old and has made a name for herself as a British potter and designer with art exhibitions in places around the world including, Sydney, New York, and Paris.
Photo of Paul McCartney hugging his wife Linda Eastman. 1989 | Photo : Getty Images
Source: Busayo Ogunjimi/news.amomama.com