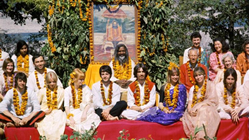 The award-winning 'The Beatles Story' in Liverpool has unveiled a new special exhibition celebrating 50 years since The Beatles travelled to Rishikesh, India.
The exhibition explores the particulars of John Lennon and George Harrison's trip to Rishikesh. Photo courtesy: The Beatles Story Liverpool
The exhibition explores this key and a relatively secretive episode of the Beatles' story with memorabilia, imagery and exclusive personal accounts from the people who were there with the band in 1968.
Quite a bit of the Beatles tryst with Maharishi Mahesh Yogi, their vow to give up drugs in favour of Transcendental Meditation, heartbreaks, breakups and bursts of creativity that marked the band's quest for quietude and spirituality in Rishikesh in 1968 has remained shrouded in secrecy.
Source: Pradeep Rana/connectedtoindia.com