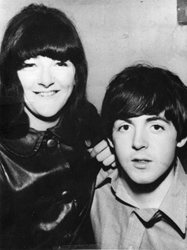 Imagine being secretary to The Beatles. Freda Kelly does not have to imagine it; she lived it for 11 years, and the Docutah International Documentary Film Festival is bringing Kelly and the film about her life with The Beatles, "Good Ol' Freda," to St. George Feb. 23 and 25.
Kelly went to work for a "new band" when she was just a shy Liverpudlian teenager, and as the Beatles' devoted secretary and friend, she was there to witness the evolution – advances and setbacks, breakthroughs and challenges – of the greatest band in history.
Now Kelly is coming to St. George for two screenings of the film produced by Kathy McCabe, who will also be attending the screenings.
In "Good Ol' Freda," Kelly tells her stories for the first time in 50 years. This documentary features original Beatles' tunes and offers an insider perspective on the beloved band that changed the world of music.
hil Tuckett, executive director of the Docutah International Documentary Film Festival, Docutah@TheElectric and the recently added venue Docutah@Tuacahn, said Kelly was more than just a secretary to The Beatles'.
"She was friend, confidant, den mother, often keeping them in line as much as their rabid fans. We are excited that Freda was willing to travel from the UK to be present at two screenings with her producer, Kathy McCabe, and regale our audience in person with her stories. Coincidentally, Feb. 25 is George Harrison's birthday, so we feel it is a celebration of his life.
Source: St. George News