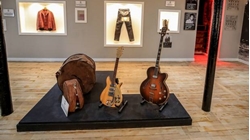 The son of The Beatles' road manager has put his Fab Four memorabilia on display to the public after opening a museum.
Roag Best, brother of the band's original drummer Pete and son of Neil Aspinall, who went on to be the managing director of the band's business Apple Corps, has opened the Magical History Museum on Liverpool's famous Mathew Street to house just some of the items from his huge Beatles collection.
The 56-year-old, whose mother Mona ran the Casbah Coffee Club where the band started their career, is displaying around 200 rare exhibits from his collection, which he estimates includes more than 1,200 items, in the five-storey building.
The memorabilia includes a harmonica used by John Lennon and the war medals he wore for the Sergeant Pepper album cover, which were loaned from Mrs Best, as well as costumes, instruments, props and merchandise.
Source: independent.ie