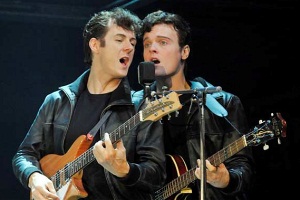 The city of Los Angeles will be treated to the first notes of The Beatles-based musical Backbeatin January, catching the tunes of the United States premiere of the show in its last stop before Broadway. The show is an adaptation of the 1994 Universal Pictures film of the same name.
Before The Beatles became the Fab Four as fans know them today–John Lennon, Paul McCartney, George Harrison, and Ringo Starr–the band had two other members. One of these was Pete Best, the band's original drummer who was a Beatle from 1960 until 1962, when he was dismissed by manager Brian Epstein (under instruction from Lennon, McCartney, and Harrison) and replaced by Ringo Starr. The other was the original bassist Stuart Sutcliffe, who played in the band for only a year before leaving to pursue a career is an artist. Sutcliffe, and The Beatles' early days, is the storyline on which Backbeat focuses.
Sutcliffe is credited with coming up with The Beatles name with Lennon over a mutual love for Buddy Holly's band, but the musical dives into the musician/painter's love for Astrid Kirchherr. Before Sutcliffe left the band, Kirchherr snapped what The Guardian calls "famous moody shots" of The Beatles and "originally styled their mop-headed, collarless look." She was engaged to Sutcliffe before he died from a brain hemorrhage at age 21.
In keeping with the spirit of The Beatles' pre-hit, Hamburg days, Backbeat is equal parts energy and "downbeat."
"It's all the better for it. More a play with songs than a fully fledged musical, this is not a show threaded through with familiar Beatles' hits: a brief glimpse of John improving on Paul's faltering attempts to write Love Me Do is about the closest we get," The Guardian writes, giving the show three stars out of five. "Instead we see the boys in their Hamburg days when they were essentially a covers band playing in a seedy nightclub, perfecting their sound and skills on hits such as "Twist and Shout" and "Please Mr. Postman.""
Other covers in the show include "Long Tall Sally," "Good Golly Miss Molly," and "Rock n' Roll Music," says Billboard.
An LA cast for Backbeat hasn't been set yet; nor has a Broadway venue been booked. But The Beatles diehards won't want to miss this show.
You can read the original article HERE