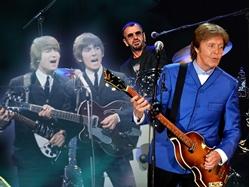 Help! I need somebody… like John Lennon and George Harrison perhaps?
In a stunning breakthrough of holographic miracle work, The Beatles will be brought back together for the first time in almost 50 years.
Two state-of-the-art holograms of deceased Beatles John Lennon and George Harrison will pave the way for a nine month world tour, giving a proper goodbye to the fan base, and add closure for Sir Paul McCartney and Sir Ringo Starr.
Thanks to the scientists and developers from Space X, Google, and a private laser corporation, Beatle legends Lennon and Harrison will be recreated into holograms called L.I.F.E forms, or Laser Intelligent Force Energy.
Not only will these holograms be realistic, but they have been programed to be completely conscious and responsive to the world around them whilst only on stage, as well as imitate the exact characteristics of the individual.
McCartney and Starr, the living members of the Beatles, each donated $10 million to the "Hello, Goodbye, Hello Fund," aimed to raise money to further the production of these Lennon/Harrison models.
Source: Eric Ransom/thebannercsi.com