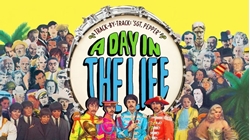 The Beatles' Sgt. Pepper's Lonely Hearts Club Band, which Rolling Stone named as the best album of all time, turns 50 on June 1st. In honor of the anniversary, and coinciding with a new deluxe reissue of Sgt. Pepper, we present a series of in-depth pieces – one for each of the album's tracks, excluding the brief "Sgt. Pepper's Lonely Hearts Club Band" reprise on Side Two – that explore the background of this revolutionary and beloved record. Today's final installment tells the full story of the late Swinging London socialite immortalized in "A Day in the Life."
Just past midnight on December 18th, 1966, a light blue Lotus Elan sports car slammed into a parked van on Redcliffe Gardens, an affluent residential street in southwest London. The driver, 21-year-old Tara Browne, heir to a million-pound Guinness Brewery fortune, died of his injuries a shortly thereafter. The story was still making headlines a month later, when the coroner's verdict was published in the January 17th, 1967, issue of The Daily Mail. John Lennon, a voracious newspaper reader since childhood, had a copy propped on his intricately carved upright piano in the den at Kenwood, his English country estate. He scanned the pages while his hands floated over the keys, finding the chords that would ultimately close the Beatles next album, Sgt. Pepper's Lonely Hearts Club Band.
"I noticed two stories. One was about the Guinness heir who killed himself in a car. That was the main headline story," he recalled in a 1980 interview with Playboy. "On the next page was a story about 4,000 potholes in the streets of Blackburn, Lancashire, that needed to be filled." While the holes were delightfully absurd, Browne's accident hit chillingly close to home. He was a familiar face in the Beatles' social circle, and one of Swinging London's first famous fatalities.
By: Jordan Runtagh
Source: Rolling Stone