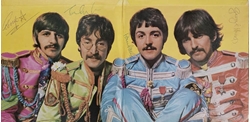 Paul Minett got three of the Fab Four to sign the inside cover of the famous album after spending hours waiting outside their Abbey Road recording studio in 1967. Unfortunately drummer Ringo was not there and so his name remained absent from the LP. But patient Paul finally completed the set when he was able to get Ringo to sign it in 1997.
It is thought there are just 10 Sgt. Pepper albums signed by all four Beatles that exist in the world. Paul's album has been valued by auctioneers at a whopping £40,000. It is believed that without the crucial fourth signature it would fetch just £15,000.
Had Ringo been in attendance that night in 1967 and signed alongside his band mates, the record would now be worth up to £80,000. Paul, a 68-year-old semi-retired scriptwriter from Aylsham, Norfolk, has had the LP gathering dust in a draw for a number of years and has now decided that now is the time to sell up. He said: "I had always thought it was a shame that I didn't get Ringo's autograph all those years ago and knew that it would be of great value with him in addition.
"They were great to interact with, as long as you were polite they were very easy going." The album remained more or less untouched for the next 30 years. In that time, due to his work in television which included writing scripts for the Two Ronnies and Kenny Everett, he made friends with a TV producer, Nick Sercombe. Due to Nick's connections with Terry Oates, whose company were representing Ringo at the time, it was arranged for Paul's original copy to be signed by Ringo.
Source: Daily Express