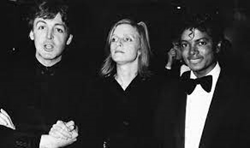 The names. The feud. The money. The legacy. Buckle up. It's about to get toasty. We're diving into the history and meaning of the Michael Jackson song, "The Girl Is Mine," featuring Beatle Paul McCartney.
Written by Jackson and producer Quincy Jones, "The Girl Is Mine" was recorded by Jackson and McCartney at Westlake Studios in L.A. from April 14-16. It was released on Jackson's sixth solo album, Thriller, in 1982. That LP remains the greatest-selling popular music album of all time. Strangely, Jackson never performed "The Girl Is Mine" in his career.
The year before, in 1981, Jackson and McCartney had recorded the song, "Say Say Say" and "The Man" for McCartney's fifth album, Pipes of Peace, which was released in 1983.
"The Girl Is Mine" topped the R&B singles chart upon its release and it peaked at No. 1 on the Billboard Hot 100. It hit No. 8 in the U.K. and No. 1 in Spain. After just two years, the song had sold 1.3 million copies by 1985. It was certified Gold. Though, at the same time, critics believed it was the weakest song on the masterpiece, Thriller. The cover photograph for the single was taken by McCartney's wife, Linda.
Source: Jacob Uitti/americansongwriter.com