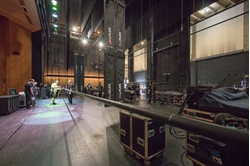 Dozens of battered black equipment cases line the stage of the Keller Auditorium on the morning of April 17. Sound and lighting cables snake around the cases, finding their way to amplifiers and control consoles. Battens - long steel pipes hung from the ceiling that span the width of the stage - have been lowered to waist level, and an assembly line of stagehands affix lights and backdrops to them.
In a few hours, cast members of "RAIN: A Tribute to The Beatles" will arrive for rehearsal - but until then, the stage crew is busy unloading equipment and assembling the stage.
Loading in and setting up a large stage production like RAIN is a performance unto itself. The cast is made up of stage hands, sound and lighting technicians, engineers and carpenters. The set is made up of equipment cases, unassembled set pieces for the show, lighting rigs, speakers and amplifiers, and miles of electrical cables. All the action is directed by stage and productions managers.
"Hey, Marty, can we get the screen pipe in?" one manager shots.
"All cables run off stage left!" yells another.
The crew work in small teams to complete various tasks including assembling arrays of hanging loudspeakers, tying a painted cloth backdrop onto a lowered batten, and tuning all of the musicians' instruments.
Source: Pierce Girkin/Metro News