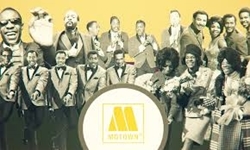 The four Beatles all loved Motown, and would search the racks of Brian Epstein's NEMS record shop for hidden treasures from the Detroit label, hoping to find unheard gems. As Ringo Starr recalled in The Beatles' Anthology, it was a love of such singles as Barrett Strong's 'Money (That's What I Want)' and The Miracles' 'You've Really Got A Hold On Me' that brought the four together: "When I joined The Beatles we didn't really know each other, but if you looked at each of our record collections, the four of us had virtually the same records. We all had The Miracles, we all had Barrett Strong and people like that. I suppose that helped us gel as musicians, and as a group."
As the 60s became dominated by Liverpool's Fab Four, Motown's finest paid tribute to The Beatles, with a string of top class covers of their songs. Here's our selection of the best Motown Beatles covers.
There's a very strong argument to be made that Stevie Wonder's 1970 cover of 'We Can Work It Out' is not only the greatest Motown cover of a Beatles number, but that it's a strong contender for the best cover of any Beatles song by anyone, ever. Full stop. Funkier than a mosquito's tweeter, Wonder earned a Grammy nomination for the song. In 2010, he performed his take at the White House in front of both President Barack Obama and Paul McCartney in a star-studded concert to honour the former Beatle. He stole the show.
Source: Paul McGuinness/udiscovermusic.com